Once the Local Authority assessment of a person's health needs has been completed and the result is that they don't qualify for NHS Continuing Care funding, the Local Authority will then carry out a further assessment of a person's finances to see if they can pay for care from their own savings and assets.
The upper capital limit for paying for care in the year 2023/24 is £23,250 in England.
The upper limit for Northern Ireland is £23,250, for Wales £50,000 if in residential care and £24,000 in non-residential care, and £32,750 for Scotland.
Once the Local Authority assessment of needs and finances has been completed if you have assets, including the value of your property, above the upper regional limit then, generally you have to pay for care yourself. This is the point when you or someone close to you needing care find out what is available and what must be paid for.
Faced with this dilemma, where do you go from here?
The following questions need to be answered:
Which type of care?
How able is the person needing care?
Are the person's care needs likely to increase?
What monies are available to pay for care?
Have all available benefits been claimed?
It is important too that the solution arrived at to fund care is flexible enough to change with the user's needs.
There may be more ways of paying for care available than you realise as people want different things and this is where good financial planning now may avoid distressing decisions in the future.
Most people want to ensure they can meet their care fees for their lifetime and preserve assets for their family. There are no winners if the finance is allowed to run out and with local authority budgets under increasing pressure, a move to a cheaper care home may be inevitable and this is very distressing when it happens. When arriving at the best possible solution for paying for care, the decision-making process will be influenced mainly by two factors, the amount of money available and the type of care a person is going to need. Dementia is a lot more expensive to insure than heart disease and a correspondingly larger fund is needed meaning that, in some cases, there is little anyone can do except to advise the Local Authority when the monies reduce to around £28-30,000 so that Social Services have enough time to set up funding.
Final decisions are often based on the urgency and availability of the care needed, especially if the person being cared for is ready to leave hospital and a place is available in their home of choice.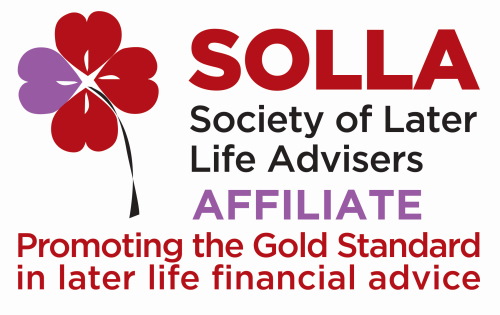 The complexities of the many decisions you or your family may need to face when looking at issues such as care funding matters or whether equity release is the right thing for you, need careful and considered advice.
This is where impartial specialist independent financial advice from an experienced adviser is very important, as they can help you look at the options available and understand the consequences of your decisions. If you wish, we can refer you to advisers who are members of the Society of Later Life Advisers (SOLLA) and hold the necessary qualifications to practise in this area. They will have a great depth of knowledge about the care system built up during their many years in advising families like yours on arranging and funding care.
If you are in the position of needing help and advice on paying for care for a loved one, please give us a call on our helpline 0800 0699 784 or complete our Contact Us form and we will be in touch as soon as we can.